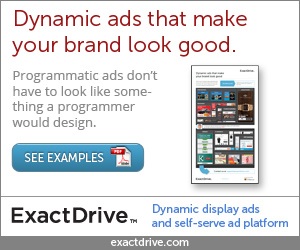 If you work in the World of online advertising, it can seem as though there's a new buzz word appearing almost every single day. Lately, there has been a great deal of interest in the media around the idea of programmatic advertising and dynamic ads. From a marketing perspective, dynamic ads could be the next step in how to find a customer during their ideal decision making circumstances - which makes it a powerful weapon for savvy companies.
The alternative to dynamic advertising, typically referred to as native advertising, is similar to simply throwing ads into the wind and hoping they'll hit someone that might be convinced to buy your product and service. In order for you to get any results, that handful of advertisements you throw out will need to come into contact with a large number of different people. Alternatively, new digital tactics like dynamic ads are much smarter, as they are triggered by a specific action, buying decision, or demographic. This ensures that you spend as little of your ad budget as possible, while still hitting the mark for brand awareness.
The Types of Dynamic Advertising
For those who are still new to the idea of dynamic advertising, one form is known as retargeting. Someone simply goes online and searches for something they find to be of interest. Once that search has been initiated by a user, retargeting ad platforms spring to action, capture information about the individual in question, and proceed to gather more intel regarding that person's web activity. This process allows these companies to serve up paid advertisements that are particularly relevant to the searches a customer has made, or the interests they indicated they might have.

In a similar vein, you have the concept of "programmatic digital advertising" which is often regarded as a smarter way to approach the traditional model for ad-pricing. Classic display ads come with a set price point that are based on their CPM views. When it comes to pricing, classic ads don't necessarily take into account whether it's your exact audience viewing the advertisement - they simply measure the complete number of views. On the other hand, the programmatic approach is a far more technical way of setting priority and pricing. Your ad is served according to contextual targeting that is created when you set your target demographic information, and the system begins to deliver relevant ads based on the demographic profile of the viewer. Not only does the company benefit from reaching a more targeted audience, but the person benefits from receiving relevant information, rather than random ads.
The Benefits of Dynamic Ads
Most people, particularly the younger generation, prefer dynamic content, because it helps to cut down on the unwanted advertisements that otherwise plague their internet searches, for products and services that they don't want or need. Sometimes, it can even be helpful for an ad to show up your search, reminding you of a product you had intended to buy but had lost somewhere along the sales funnel.

Though there has been some concern around the concept of dynamic ads and data acquisition, it's unavoidable that in today's world, our activities are being tracked regularly, and leveraged for the purpose of marketing, both offline and online. One of the biggest problems that people have with dynamic ads is the amount of data it absorbs regarding the people within a target audience. However, the unfortunate truth is that most places on the Internet already have our information - whether we like it or not. On a more advanced level, data mining is increasingly emerging as a part of our regular lives. For example, you may not be able to get a great deal at the supermarket unless you have a club card, and you can't share information on Facebook without having that information tracked.
In regards to benefits for companies paying out for programmatic and dynamic advertising, your money is often better spent. Dynamic advertising and programmatic pricing allows you to get more out of your marketing budget. The reason for this is that you're only getting billed for ads that are served directly to your target market, rather than being billed for everyone and anyone who happens to notice your ad. What's more, these ads are prioritized, so that if one of your creatives would be more relevant than another, it can be served first, cutting down on useless ad spending. If you're an advertiser looking for a higher amount of ROI, then dynamic tactics can deliver results, and are therefore here to stay. The key is knowing how to use them properly, and make sure that you get the most out of your money, so that you can draw in your audience and keep them around for longer.