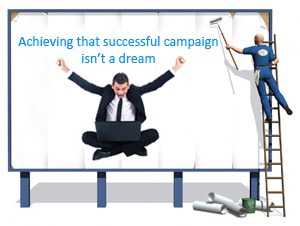 You might have the most amazing company product or service in the world - but what you can offer to your customers won't matter unless you can find a way to let them know about you. Advertising is one of the most crucial paths to customer awareness there is, and the goal of any advertising program should be to reach out to the largest possible audience, with the smallest impact on your budget. If it's done properly, the right online advertising campaign can be the most beneficial thing you invest in for your business. Unfortunately - like many parts of running a business - online advertising can be a tricky thing to perfect. With that in mind, here are seven of the simplest and most important things you and your online advertising campaign will need in order to succeed.
1) A Target Audience
A common mistake that many advertisers make is attempting to create generic banner ads that speak to everyone - without grabbing the attention of anyone in particular.
Identifying a target market doesn't mean that you're excluding any potential customer that doesn't fit into the strict guidelines of what you've determined to be your main audience. Instead, it allows you to focus your time, money, and efforts on a collection of people who are the most likely to purchase your service or products. Focusing on the people who will be most drawn towards your products gives you the opportunity to ensure that you're using your budget as effectively as possible.
Ask yourself what kind of customers are likely to be drawn to your service or product, then adapt your advertisement so that it speaks to them on a personal level.
2) A Unique Selling Point
It doesn't matter how niche your industry is - the chances are that there's someone else out there that offers something similar to you. One of the keys to achieving successful advertising campaigns is knowing how to accentuate the unique and positive parts of your company that set you apart from competitors. Your unique selling point is the thing that gives you a competitive edge, convincing your intended audience that you can deliver value and potential they would not get anywhere else.
3) A Defined Image
You barely need to look at the McDonalds logo to recognize it, and your goal should be to ensure that your marketing efforts and logo are just as recognizable to your audience. You shouldn't judge a book by its cover, but it's fair to say that image counts when it comes to promoting a business - and too many advertisers fail when it comes to building that image in a consistent and reliable way. Remember, your brand image is your opportunity to make an impression on prospective customers - don't waste it!
4) A Diverse Presence
It's all too easy for business owners to decide on the best place to advertise based on the potential rate of returns and the amount they'll have to pay - then simply stop worrying about it. As with any investment, you shouldn't be placing all of your eggs in one basket when it comes to marketing. Spread your budget around by choosing a variety of different media that is appropriate to your audience, and message. The chances are that you'll get much more impressive results.
5) A Realistic Ad Budget
Having a realistic ad budget doesn't mean that you have to have a huge and unlimited supply of money set aside for advertising. Instead, it means understanding that your budget may need to adapt and change according to certain circumstances. For example, simply allocating $5,000 to advertising every month might be a great way to keep your bookkeeping simple, but the chances are that there will be months during the year when you need more advertising revenue, and times when you need less. For example, you may want to do more for your company during the holiday period, and less in times when your service is not as relevant.
6) A Clear Identity
No service or product is going to appeal to everyone, and too many business owners waste time and money attempting to find ways to reach out to every market. Unfortunately, this can spell disaster for smaller businesses that can feel the financial stretch when they try to spread themselves too thin. Decide who you're going to be and who you're going to market to, then go from there.
7) A Plan of Action
Finally, remember that online advertising isn't just a marketing opportunity - it's a commitment you have to make. Advertising your business is something you're never going to stop testing, perfecting, and updating, so you have to be willing to put in the work. Have a plan of action on how you're going to monitor your ads, learn where your customers came from, and discover which of your efforts are having the best effect. You'll always benefit more if you can pinpoint which of your advertisements are the most profitable for your company.
So there you have it – seven of the most important things you'll need to make your online advertising campaign a success. By keeping these in mind, you can focus on what really matters and avoid some of the common pitfalls that many businesses fall into. And if all this sounds like too much for you to handle on your own, don't worry – we're here to help. Contact us today and let us show you how we can take your business to the next level with our comprehensive online advertising services.