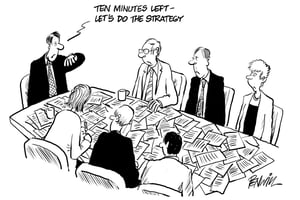 Today, it seems as though studies are constantly proving just how important it is for companies to establish a successful social media plan, if they want to get the most out of their online marketing strategies. Social media advertising is one of the number one ways for most businesses and brands to get their names out into the social sphere, increasing their traffic, improving the relationships that they build with customers, and developing their future within the industry.
Unfortunately, too many companies ignore the benefits that social media could have on their advertising campaign, simply because they believe that putting a winning strategy together will either take too much money, or too much time. The truth is that there may be a lot to think about when it comes to establishing a successful online media strategy. However, once you've got the initial questions out of the way, you should be able to build a plan that works for you well into the future - and it could all take no more than a few minutes. So how can you develop a winning media plan? Just follow these steps:
Step 1: Figure

Out

Your Goals
How can you determine whether something is successful or not unless you have a specific goal to measure? Think about what you want to achieve with your online media plan, and create a hierarchy of goals that you would like to reach in a certain amount of time. For some people, the first goal may be to increase website traffic by 20% over the next two months, whereas other companies may want to discover new ways of connecting with influential industry personalities. Decide what matters to your business, and ensure you have a way to measure the outcome of your advertising over time.
Step 2: Identify Your Market
Once you've figured out exactly what you want to achieve, decide who you're going to be directing your online creatives and marketing media towards. Who do you want to connect with through social media? When answering this question, try to be as specific as possible, and include as many details as possible: including demographic, geographic, and even psychological characteristics.
Step 3: Choose Your Social Media Platform
Deciding to take part in the social media advertising age doesn't simply mean that you start developing advertisements for every avenue available to you. You need to figure out which social media platform is the best fit to help you achieve your goals. For instance, if your target market is made up primarily of executives, then Instagram probably isn't a good idea. If in doubt, Facebook and Twitter are usually the best places to start for most businesses.
Step 4: Listen to Your Audience
Creating a successful online media plan means listening to your audience and providing them with the answers, solutions, and information that they need. Look at what your target market is talking about through social media, and figure out a way that you can respond to their concerns in a useful and valuable format. The more you listen, the more your customers will feel valued, and appreciated.
Step 5: Create a Personality
A lot of your online media strategy is going to be built on the kind of personality that you want your business to put across. For example, the things that you post on Twitter and Facebook will often be written from a certain perspective - and this should be the perspective that appeals most to your target market. Your media persona should have a sense of humor - without being offensive and it should be something that your audience can relate to and connect with.
Step 6: Develop a Strategy for Posting
Being successful on social media is all about staying active. However, it's important to make sure you can be consistently present, without being a nuisance to your followers and fans. The last thing that you want is for your audience to start blocking your tweets or unfollowing you because they're sick of the constant updates that you post every day. Research suggests that a good rule of thumb to stick to is no more than three posts per day on twitter, five posts a day on Pinterest, and two posts a day on Facebook. Once you've found a frequency that works perfectly for you, you'll be able to access online tools (Note: ExactDrive users the Buffer App with great results) that allow you to create an automated posting schedule - ensuring you stay on track.
Step 7: Analyze Everything
Finally, like most parts of online advertising, developing a winning online media strategy means taking a few minutes out every week, or month to check that your plan is actually working. Analyze how often you get engagements with your posts on Facebook, and how many people retweet the things that you say. If the numbers are lower than you'd typically expect, you may need to rehash your media strategy and start again.