You may have heard of the phrase 'big data'. Well, Proximic are big data experts and ExactDrive is happy to be an longtime active partner. Big data is in front of our eyes every day, but are you even aware of it? And if you are, perhaps you're not using it properly? The key to big data lies in having the skill to interpret it and apply it correctly to your business. Put simply, Proximic will help you get to grips with your data in order to transform your ad campaigns and deliver better results.
Proximic have a company ethos that's all about handing control back to people. That stance underpins everything they do.
When faced with the prospect of creating a digital advertising campaign, there are so many options these days. Display, mobile, video, blogging and the like. Then there are the demands of assessing a campaign and working out your ROI, not to mention strategic planning for the future. Also, let's not forget that every business has different market requirements and digital challenges. There's nothing quite like a million and one jobs to make you feel intimidated, eh?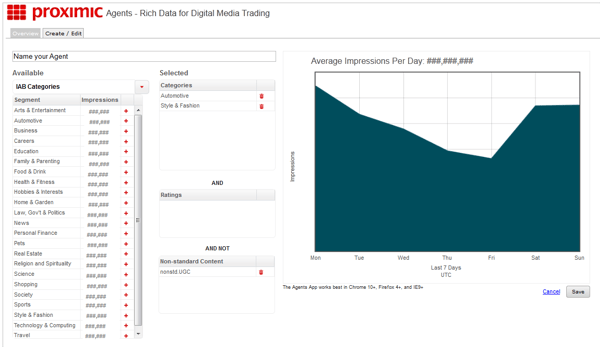 Proximic aim to create an environment where both the buyer and the seller have a clear vision of what is being bought and how. The do that by applying three principles to big data.
Their first principle is to make sure that your big data is visible, transparent and simple to understand. Secondly, Proximic understand that interpreting big data and acting on results quickly is incredibly important, which is why they're passionate about integrating their services quickly. Thirdly, they know that there's never a one-size-fits all answer to big data. With Proximic, you can customize your settings to really get to know each and every customer.
As a customer, you want a business to speak to you, rather than to chirp out general messages. As a business owner, you want to make sure that your online advertising spend is reaping rewards. Proximic will help you nail both.
Proximic's technology will help you precisely get to grips with page contextualization, audience targeting and brand protection, so that you can feel more empowered. Enjoy greater control, precision, confidence and profitability. Use Proximic and look forward to effective ad campaigns at last.