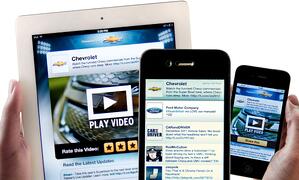 When you want to engage consumers and build brand awareness, there's no denying the impact of video advertising. By connecting the power of sight, sound and motion you're onto a winning formula that can captivate your audience and filter out some of the other digital distractions that people are faced with every day. What's more, if you go viral you'll be onto something huge that could transform your business.
The proof is in the stats. YouTube receives more than 1 billion unique visitors every month and they're watching more than 6 billion hours of video. Between mid-2012 and mid-2013, mobile video advertising grew by 1,260% to roughly $40 million, and video's share of online and mobile display has grown by 50% to 18%.
Perhaps the best thing about video advertising is its portability. Unlike more traditional advertising, video (like the Internet) follows consumers wherever they go. It's on their tablet, their smartphone and their laptop. The multi-screen digital video advertising approach works. So providing you've nailed the content, there's very little to lose.
Who got it right last month?
Activia: Shakira – La La La (Brazil 2014) – 1.34 million shares
Activision: Call of Duty – Advanced Warfare Reveal Trailer - 568,520 shares

Card Store: World's Toughest Job

– 476,246 shares
Samsung: #GALAXY11 Training – 463,235 shares

Nike: Winner Stays

– 375,687 shares
Ubisoft (Watchdogs): Amazing Street Hack – 207,631 shares

P&G: What I See

– 207,575 shares

Spies Travel: Do It For Denmark

– 143,108 shares
Adidas: The Dream – All In Or Nothing – 110,602 shares

Disney (Frozen): Let It Go Sing-a-long

– 104,113 shares
Source: The Top 20 Most Shared Online Video Ads For May 2014
Of course, the rise of social media has been key for the success of online video advertising and there's no doubt that this trend will continue into 2014. The best video advertisements of 2013 were shared up to 4.3 million times. So what set them apart from the rest? Basically the best video advertisements contain great content that people want to share, rather than overt marketing messages that turn people off and automatically put them into a consumer pigeonhole. Just think about your favorite Super Bowl commercials.
And changes are afoot to make the power of video even more impressive. New formats are emerging that will engage users for longer as well as being able to sell products directly. Shoppable video was being tested by Google last year and platforms such as WireWax and Kiosked are gaining momentum. 2014 will see more dynamic, personalised content that can be generated using geo-targeting and service-provider data. With these features you can offer the ultimate in targeted advertising by displaying relevant prices, promotions, product information and more within the video.
Are you promoting your business with interactive video ads? Do you use games, surveys, or social sharing buttons to get people involved? More and more unique ways of engaging with consumers are on the horizon and if you get video right you'll be ahead of the game. This is a trend you can't afford to miss out on and ExactDrive is here to show you how it's done.