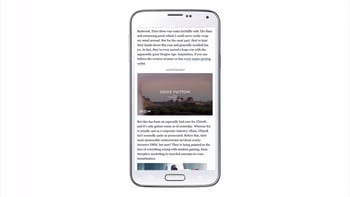 If you have any experience within the digital marketing sphere today, then the chances are you know just how valuable video advertisements can be. Unlike streams of long and unyielding text, video advertisements allow businesses to engage their audience using a new range of senses to entertain and inform.
According to eMarketer, US digital video ad spending is expected to reach around $7.77 billion this year alone. This accounts for an increase in spending of 33.8% year over year, representing 13.3% of the total digital ad dollars we use on an annual basis. As more money flows into the video advertising format, it only makes sense that advertisers and agencies would start considering how they're going to deliver premium-standard content to their audience.
Out-stream impressions are types of video advertisement that don't come attached to any other content. In other words, they're not like those YouTube ads that show up before you can view a video - they stand alone within standard ad placements - such as on websites or in the midst of articles. These unique types of video advertisements offer very specific benefits to advertisers - by allowing them to grab the attention of their audiences, without interrupting their viewing experience.
The Value of Out-Streams Video Ads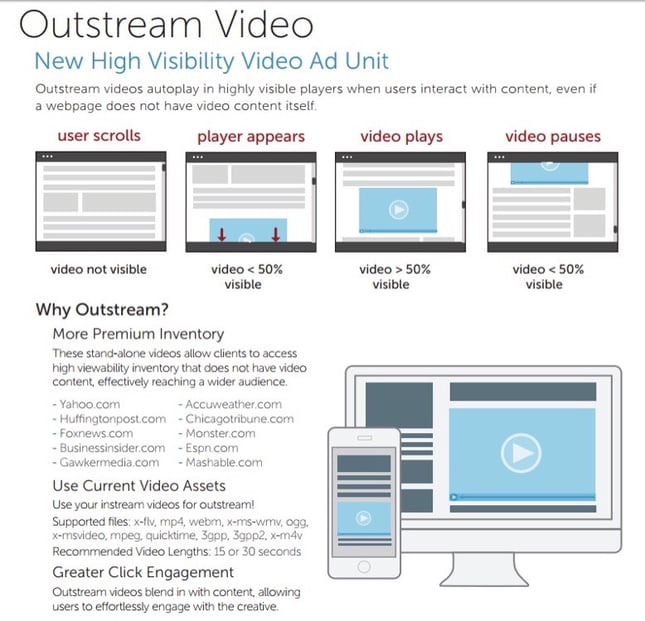 eMarketer's assessment of out-stream video ads found that around seven in every ten advertisers who purchased out-stream videos felt as though they offered better solutions for their marketing needs. The companies that were interviewed suggested that Out-Stream ads gave them more opportunities to purchase video solutions programmatically, while still offering a good user-experience to consumers. Learn more by downloading our out-stream video ad pdf.
In other words, not only did the businesses buying the videos feel as though they were getting a better deal through out-stream advertising, but they also found that their customers found this form of marketing to be less disruptive than other advertising solutions.
So what are some of the main benefits of out-stream advertising, and why should you consider using them in your next marketing strategy?
1. Out-Stream Provides New Contextual Solutions
One of the main reasons why advertisers love video as a marketing platform - is that it gives them a fantastic way to tell their brand story to an engaged and interested audience. Some publishers don't offer placements for "in-stream" video ads, but that doesn't mean that you can't necessarily buy video opportunities on that website.
If you discover that the audience in a particular site is perfect for your specific brand, you need to make sure that you can interact with them through your marketing efforts. If you only had video content, and that website had no video campaign space, then you would miss out on incredible selling opportunities. However, out-stream bridges this gap by allowing you to get involved anyway. After all, you don't need a video player to implement out-stream ads.
2. Out-Stream Makes Video Scalable
For publishers, out-stream advertising offers a fantastic solution for those who want to offer up quick video inventory to keep up with rising demands. This is particularly beneficial for marketing bodies that do a lot of behavioral targeting, because they will need to constantly scale when identifying new chunks of essential users.
Think of it this way, if you purchase in-stream video placement on websites that reach ten thousand people on average, and you only target women from a specific age-group, then your targets are going to drop significantly. Once you segment that group even further, your prospects continue to drop - leaving fewer chances for conversions.
Out-Stream doesn't force you to broaden your targeting efforts. Instead, it expands the areas in which you can place your advertising solutions by giving you access to websites were pre-roll, and mid-roll inventory solutions don't exist.
3. Out-Stream Is Proven To Be Effective
Read any survey or study on out-stream video advertising, and the chances are you'll see some great results. The most common benefits of out-stream advertising include:
Improved viewability

Higher click-through rate
Greater versatility
When Forrester conducted a survey about the kinds of videos that would be the most important to the ad portfolios of clients in the future, they found that 70% of advertisers and 77% of agencies considered out-stream units to be essential.
In the days when out-streaming is taking off, there's no better time to explore the new format for yourself and start looking into ways that you can use it to enhance your video campaigns. The chances are that you already have the content, so stop limiting yourself with standard videos!