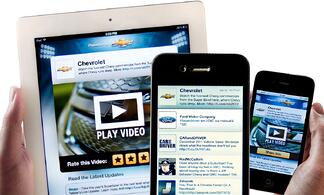 If you were researching a new product, would you be more likely to read a text heavy brochure, or watch an engaging, 90-second video about it? If you said 'video', you would be in the majority. According to the results of a recent study by media software company Levels Beyond, 59% of consumers would rather watch a brand video on a brand's site. Not only that; but 61% of consumers watch branded videos when they're shared by a friend.
These statistics, along with the news that US online video ad spend is projected to continue to climb intensely this year, show that video advertising is a strategy that marketers can't afford to ignore. However, there are some skeptics out there – some marketers hesitate in online advertising because they claim it lacks effective measurement tools. But as technology evolves, this is changing.
Why do you need video?
Online video presents a compelling advertising opportunity. It is a multi-sensory medium that engages viewers on an emotional level and encourages sharing and word-of-mouth endorsement. As this happens across social networks, it becomes a powerful tool for advertisers to build brand awareness.
Not only that, but an online video can pay for itself many times over. If you were to take out an ad on TV, radio or in a magazine, you'd have to buy a slot – and the ad would be there for a limited amount of time. With video, once you upload it, it can last forever - continually promoting your business. This makes video advertising a lot more cost effective.
Convinced yet? If not, maybe these reasons will change your mind:
1. Search Engine Ranking: Video advertisements attract a high ranking on search engines, due to the description tags associated with them. This will ultimately allow for better visibility of a brand.
2. Virality: Video advertising is one of the most lucrative ways to advertise on the web. When videos go viral, people share them across the web, boosting brand awareness and potential sales. Of all the benefits of video marketing, virality makes it possible to exponentially spread your marketing efforts without increasing your advertising budget.
3. Real-time Results: Brands can track the behavior of ads on a minute-by-minute basis, down to the location of the viewers. Online advertising platforms also encourage consumer engagement, which provides brands with real-time feedback, on which they can act immediately.
4. Always available: Online video is available 24 hours a day and can be accessed from pretty much anywhere. The platform is everywhere there's a screen. What more could a marketer ask for in terms of exposure?