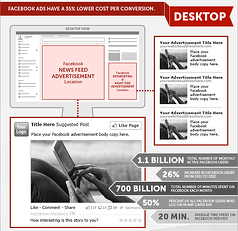 Facebook has grown into one of the most significant social entities on the Internet, offering a powerful medium to expose your brand by leveraging Facebook Advertising capabilities . With reportedly over 1.3 billion monthly active users, Facebook's audience is incomprehensibly large. In 2013, Facebook earned roughly $6.15 billion in revenue, a number which will be significantly larger in 2014. The overwhelming majority of that income came from advertising done by companies on the Facebook advertising platform.
The size of Facebook's audience is a double-edged sword for companies that are not spending their money wisely on the Facebook advertising platform. While the potential return on investment and cost-effectiveness of Facebook advertising is impressive, it is important for any company investing in online advertising on Facebook – or for any Internet marketing plan in general – to create a well-thought-out media strategy before starting to purchase advertising. A couple suggestions are shared below.
Making Facebook Ads More Effective

Facebook offers a wide-range of online advertising tools and services. Facebook is equipped with a vast array of analytics and targeting tools that allow companies to drill down their target audience by location, age, interests, marital status, and many other metrics.
When beginning a Facebook advertising campaign one of the first things any company should do is decide which specific market it is trying to target. One mistake that many companies make is to dump their entire budget into one or two ads aimed at that market.
A potentially more effective strategy is to create a series of trial campaigns, each using a small portion of the overall advertising budget. Create a series of advertisements for each target market, and maybe even break down the target market into sub-categories as well. Analytics data can be obtained fairly quickly and can be used to decide which campaigns should receive the most funding based on performance.
Once the more effective advertisements have been found, commit a larger portion of the budget to those successful campaigns. Keep in mind that it is also important to set aside a portion of the budget for trial runs on new ads moving forward. Over time, a company may find one of its primary campaigns is under-performing; with adequate advance planning, the company can have another successful trial campaign ready to replace the under-performing one. In this way, the company can constantly be working to increase its brand effectiveness and overall conversion rate.
Additional Facebook advertising resources: