The U.S. Government may be shut down but ExactDrive will keep rolling on with our digital world domination plan. But in all seriousness, we are excited to announce that we just released Facebook News Feed Advertising capabilities.
Facebook News Feed Advertising
It's an exciting new release which brings even more quality inventory to our resellers and advertising clients. ExactDrive clients can now leverage Facebook News Feed Advertising in addition to our FB Right Hand Side and FB Retargeting capabilities through our Facebook Exchange partnership.
If this isn't exciting enough for you, these Facebook Advertising capabilities can be built and executed in conjuction with our other Display Targeting campaigns within ExactDrive's Self Serve Advertising Platform bringing efficiency and transparency to your clients campaigns
The release of this new feature is just in time before the online holiday shopping season begins. Jump start your clients campaign by buying Facebook Feed, Facebook Right Hand Side and Facebook Retargeting inventory directly through the ExactDrive Self Serve Ad Platform.
Facebook News Feed Ad Example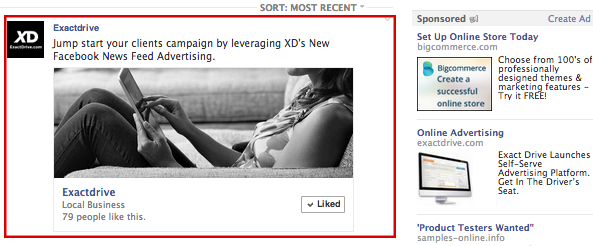 Facebook Retargeting & Right Hand Side Ad Example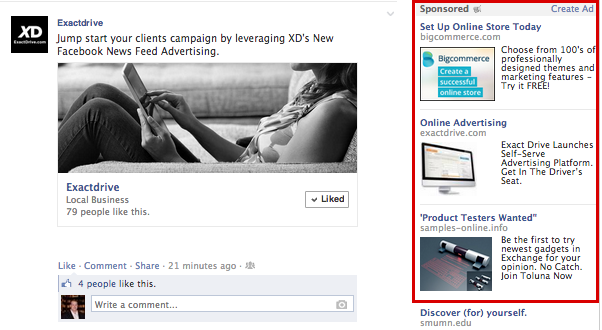 Get started today by registering for ExactDrive's Self Serve Advertising Platform or contact our sales team to get the conversation started!