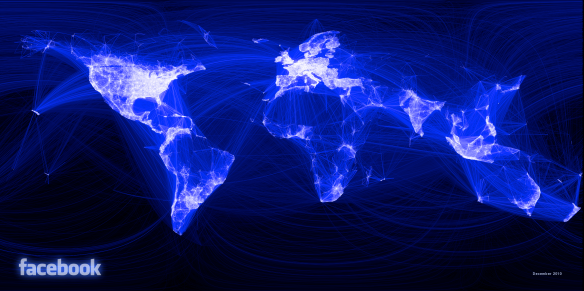 As Facebook's lead ad planner, Kelly Maclean's job is to watch people watch advertisements. In emerging markets, the heat is on to study local activity so that Facebook can come up with advertising methods that perform well in developing countries. She travels to places like Brazil, Indonesia, South Africa to get an inside look at what works and what doesn't.
So what's the main difference between Facebook advertising in places like this and countries in Europe and the US? In the US it's fair to say that social media advertising is rife, to the point where it can sometimes get in the way of 'socializing', or it becomes a bit of an intrusion on your digital world. It's a cluttered marketplace where brands battle for their piece of the action, but it's a very different story in the developing World where it's still a novelty to see and hear what big brands have to say. MacLean said:
"In the United States, social media advertising can feel like an intrusion. In the developing World the challenge is too few ads, not too many. In developing countries people actually want to connect with brands more."
She even went on to say that she's seen Facebook users take screen grabs of advertisements, saving them to their phones so that they can share them offline and refer back to them:
"Sitting with people on the ground, watching them consume content on Facebook, we saw several people take screenshots of ads and then take it and share it with friends," MacLean said. "It took us back."
It's interesting to see that in these growing countries, interest in branded content was much higher than in the developed World, and marketing messages were more welcomed.
"Brands in developing countries play a more pivotal role in general," MacLean said. "People are aspiring to owning brands, and moving up socially and economically."
So what's the greatest barrier to effective social media advertising in these areas? It's fair to say that feature phones have a huge role to play. In the developing World, up to 70 percent of users are spending time on Facebook from feature phones (including basic smartphones.) But in these areas, Facebook users are concerned with data expenses and slow networks.
Facebook's typical advertising strategy just doesn't seem to translate in this environment at present. People want to connect with brands in ways that are different to the UK and US. They actively seek to get info from brands and details of products that they can ultimately share with people in their lives. This data fear and network concern means that, although the developing World accounts for about 30% of Facebook users (there are 100m monthly users in India alone), it only equates to approximately 10% of ad sales last quarter. Feature phones are actually proving to be a technological barrier to advertising. Because of this, the developing World is a crucial growth area for Facebook's ad business, especially countries like India and Brazil.
So what can be done?

MacLean's team has been working on advances that send media using the least amount of data. And Facebook is also embracing cultural differences and building country-specific ad products based on the behavior that MacLean sees when she visits, like when she saw users take screenshots.
"We could make it easier for them to do that right from the ad," she said.
In India, Facebook's researchers picked up on the cultural phenomenon of missed calls, where people basically call each other and quickly hang up so they don't incur phone charges but still get a friend's attention. For the developed World, with the prevalence of 'unlimited minutes' consumers would find this reminiscent of 15 years ago and hard to imagine today.
In India, Facebook now allows advertisers to buy missed call ads that prompt users to dial a number and hang up. The calls put consumers in a contest or other promotion, and brands can call consumers back with other advertising messages like polls or game highlights.
Facebook shared a recent case in which Garnier promoted its hair products to 15 million men in India using the missed call ads.
In the developing world, mobile is critical to brands' ability to market themselves. Many see Facebook as one of the few digital advertising avenues open to reaching a target audience that is mostly mobile and often on feature phones. The developing world was top of mind for brands and agencies meeting with Facebook at the Cannes Lions International Festival of Creativity last month. Yet more proof of how crucial this marketplace is.
Facebook has joined forces with big media agencies to try and make this work:
"Our clients want to connect with people in these countries, however, limited and scalable mobile options make that a challenge, We are working with Facebook to explore new advertising solutions which are directly built from the way people communicate on mobile everyday. Facebook also is measuring how the ads affect feature phone users in developing worlds - do they recall the message, does their sentiment change?
"And of course, it's important to measure reactions. In Africa, leading global information and measurement company Nielsen, found that feature phone campaigns are more effective there than anywhere else Facebook marketing appears - with higher brand recall and larger increases in purchase intent." MacLean says.
"Mobile is translating into connectedness in high-growth countries," she stated. "In some cases brands are able to reach people for the first time."
Stay tuned. More thoughts about Facebook and online advertising to follow...