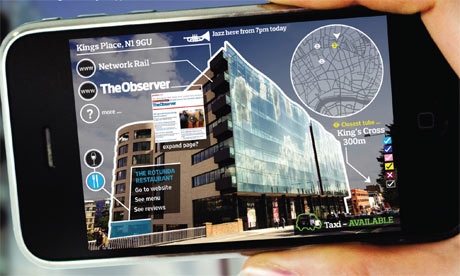 We live in a busy, cluttered world where consumers are bombarded with messages from every business under the sun. Brands interrupt our social media news feeds, our TV programs, our podcasts, videos and our browsing. You can't walk down the street, take a train or step in a taxi without seeing some kind of marketing.
The problem with this, for businesses, is that consumers start to tune out to the different forms of communication. When this happens, how do brands get heard? The answer is: they need to get creative.
What is 'augmented reality'?
It's an image of a real-world environment that has been supplemented by something computer-generated, such as sound, video or special graphics.
What effect does it have?
Combining genuine reality with enhanced effects allows brands to send very creative and engaging messages to customers. It allows them to place their products and services into their audience's everyday lives. Allowing people to imagine how a product or service could fit into their world can often make augmented reality marketing the next best thing to having the customer right in front of you.
4 brands who use augmented reality to create effective marketing strategies.
1. Lego
Lego thought of a clever way to let kids imagine what it's like to play with their toys. Some of their stores had special mirrors where you could hold up a fully packaged box of Lego and, in the 'reflection', you could see what you'd be building. Pretty cool, eh?
2. Citroen
Citroen had a very creative moment when they decided to replace their tired, traditional car brochures with an augmented reality-style brochure for the C3 Picasso. It basically meant that prospective customers could enjoy a 3D demo in the palm of their hands.
3. BMW
BMW uses augmented reality for training purposes, as it's a guaranteed to really connect with staff. Engineers are given special glasses that overlay virtual information about how to build or repair their vehicles.
4. Eurocopter
Are you pitching for something and you need to stand out from the competition? That was Eurocopter's problem, and they got round that by bringing 3D models to life. The result was 111 orders in two days for their new EC175 helicopter.
The Invisible World of Augmented Reality
Usually, the first rule of advertising is to make your brand as visible as possible, but for the last few years, marketers have been flipping the concept on its head and creating 'invisible' adverts, with the help of augmented reality technology.
Augmented reality is a means of linking the real world and the virtual world through digital technology, creating composite view of the world. The technology overlays computer-generated content such as video, graphics, text, sound or GPS data on to real-world images, captured on smart phones, tablets or through hi-tech glasses.
From a marketing perspective, augmented reality has dramatically transformed the way that companies and consumers interact with one another. It has enabled brands to turn one-dimensional communications into vibrant, interactive brand experiences that resonate with consumers at a profound level, as the following examples demonstrate.
LYNX Anarchy
In 2012, LYNX launched their unisex scent, Anarchy, using a clever augmented reality campaign. The concept used an abandoned house, where the windows were replaced with special LED screens. For passers-by, the screens would appear blank, but as soon as they were handed a pair of LYNX sunglasses, they were able to see a series of sexy and anarchic things going on within the house.
As a world first, the invisible ad campaign was highly innovative and successful in creating buzz and driving a strong and clear message to its target market, (consisting of young party-goers), through interactive creativity.
Take a Picture
As smart phones continue to proliferate our daily offering, it is becoming increasingly important to incorporate immersive experiences into a mobile setting, which is exactly what Toronto-based artists Brad Blucher and Kyle Clements did with their 'Take a Picture' augmented reality exhibition.
The artists explored the relationship between digital cameras and social media, by creating paintings which looked like blank canvases to the naked eye, but what the viewer could not see was the mass of wires, circuit boards and LEDs, which were strategically placed below the surface of the canvas, to create an image.
The light from the LEDs was outside the range of human vision, but was visible to a camera phone/digital camera screen. The camera sensor picked up the light and displayed the image, making the invisible visible. The innovative exhibition generated a lot of interest and provided attendees with an extremely memorable and immersive augmented experience.
Summary
Whichever marketing route you choose, business is tougher than ever and you'll only be limited by your imagination. Augmented reality offers you a way of reaching out to customers like never before.