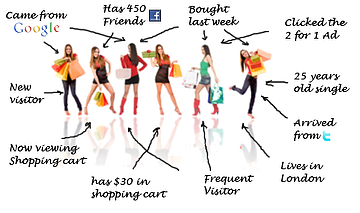 Have you ever wondered how banner ads seem to know what you are thinking? That you were coveting that new pair of Jimmy Choo's, or that vacation in the Bahamas? Or, have you been curious about how that dynamic banner ad knew to tell you about the new coffee shop that has opened at the end of your street?
Every time you surf the Internet, advanced data mining operations are cataloging your interests so that businesses can serve you personalized advertisements. The practice is known as "Interest-Based" or "Behavioral Advertising (or behavioral targeting," and it enables advertisers to speak directly to their target audience with timely and relevant messages.
What is behavioral advertising?
As opposed to direct marketing, where advertisers send the same message to everyone, behavioral advertising takes online information and uses it to tailor the message to the user.
Behavioral targeting can be defined as using web analytics, computer applications, and cookies, browsing and search history, and IP addresses to create user profiles of individual consumers. With that information, the website's ad server will then generate relevant and targeted content or advertisements that appeal to their interests. For example, those who visit the automotive section of a general news site will start seeing car ads as they browse other sections of that website (or when visiting completely other websites) - and those ads will change and become more "targeted" over time.
What makes

a good behavioral advertising strategy?
A good behavioral advertising strategy consists of three key elements - data acquisition, data tracking, and segmentation in relation to conversion goals.
Here are some quick tips to help you tap into the power of behavioral advertising and give your marketing ROI a boost.
Tip 1
Build a centralized marketing database: Effective behavioral advertising begins with a unified marketing database that captures the interactions of users across multiple channels – site visits, email, social, mobile, offline, location, and more.
Tip 2
Segment your audience and advertise based on behaviors: Group your contacts together based on key characteristics and then send relevant content based on those characteristics. By using both recipient actions and the time frame they were committed within to segment, you'll boost relevance.
For example, you might run a query for those contacts that have visited your website and watched a product video within the last 30 days but didn't request a sales call. You can send them a message geared toward incentivizing them to set up a call.
Tip 3
Insert dynamic content into emails based on users' behaviors: Placing dynamic content (similar to dynamic ads) in a message enables you to automatically replace entire sections of your messages based on specified parameters. It's a powerful way to boost engagement, conversions, and revenue.
For example, you could populate a post-purchase email with pictures of recommended accessories for the item the recipient purchased, or populate a post-webinar message with white papers related to the Webinar the recipient viewed.