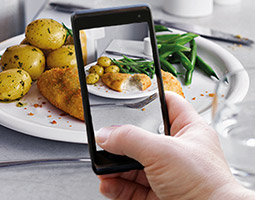 Frozen food brand Birds Eye recently celebrated the launch of its new 'Inspirations' range of meals by delving into the world of experiential marketing. As part of a social commerce experiment to measure the returns of Instagram, the Iglo Group owned business opened up a pop-up restaurant with a difference. In a world-first, customers were invited to settle their bill by taking photos of their meals and uploading them to Instagram, tagging #BirdsEyeInspirations.
Birds Eye introduced the 'pay-by-picture' campaign after consumer research revealed that 52% of Britons regularly take photos of their meals, with one in ten of us taking at least one snap of our food every week. This is backed up by the fact that there are currently 90 million photos of food on Instagram with a #food hashtag. Yes, that was 90 million.
Kelloggs' Special K Cracker Chips Rocks Instagram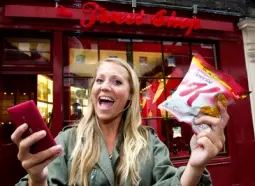 While Birds Eye may have led the way with their Instagram campaign, they are not the first company to experiment with social commerce. In 2012, Kelloggs opened a pop-up shop in Soho for four days, to celebrate the launch of their Special K Cracker Chips. Customers received a free bag of chips in return for a Tweet with the hashtag #tweetshop.
The move by both companies shows that brands are recognizing the power of social media and are experimenting with new ways to encourage online interaction through physical spaces.
Earlier this year, Carlsberg introduced Happy Hour 2.0; a social commerce initiative that they claim 'renews the well-known on-trade promotion of happy hour to fit the modern social media mindset'. Visitors to participating bars are given the opportunity to buy Carlsberg or Tuborg beer at half-price throughout the evening, in return for uploading pictures to Instagram with the name of the venue and the #HappyBeerTime hashtag. This is the latest attempt from a brewer to push beer in bars, where wine and spirit brands have traditionally been more dominant.
An emarketer study "Worldwide Social Network Users: 2013 Forecast and Comparative Estimates," estimates that one in four people around the world use social media networks and that the total number of users would increase from 1.73 billion in 2013 to 2.55 billion by 2017.
These statistics show that social media is not going anywhere and in order for brands to retain their relevance, they need to integrate their social media with ecommerce.
With this in mind, here are our 3 top tips for using social commerce for your brand.
Listen to your customers
At its core, social media is a continuing conversation. People are not only interacting with their peers, but also with their favorite brands. By paying attention to what customers are saying, you'll get a clear picture of how you can better improve their experience and meet their needs.
Be Diverse
Your business most likely has a presence on Facebook and Twitter, but there are many other options when it comes to social commerce. Offering discounts via Groupon and Living Social puts your business on the local radar, while participating in social shopping sites can open up your business to a national or international market. Choose the platforms that work best for your business.
Make it Visual
Visual platforms like Pinterest and Instagram make it easy for users to share pictures of everything and anything. For companies, these platforms can become the online equivalent of a product showroom. Pinterest boards are a great way to showcase your best-selling products and Instagram allows companies to showcase how existing customers are using your products.