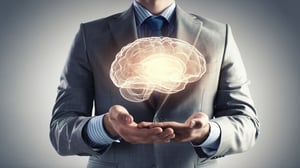 Facebook once came under heavy fire for revealing that it had run a week-long experiment on its network that intentionally manipulated the emotions of users without telling them. The purpose of the experiment was to find out how mood transferred through social groups - would seeing a sad status make people feel sad? What about happy updates? To test this, Facebook experimented with nearly 700,000 user accounts, by posting either more negative or more positive updates on their news feeds than normal. They then tracked what all the users posted after they viewed the news feeds.
The exercise incited heavy criticism from Facebook users and regulating bodies, who are investigating whether the social media site has broken data protection laws with their research.
Despite the concern about this experiment, companies are increasingly experimenting with neuromarketing (the study of consumers' sensorimotor, cognitive, and affective response to marketing stimuli), in order to find new ways of engaging with them.
The collaboration between neuroscience and marketing is not a new one, but the recent revelations by Facebook (and dating site OKCupid, who also admitted to running tests without users knowledge last month), have reignited ethical debates around the misuse of technology and science in the realm of marketing. Some consumer advocate organizations argue that neuromarketing is unethical, as it is extremely invasive and influences, manipulates and coerces the subconscious mind in ways that our conscious mind is unaware of.
What is Neuromarketing?
Unlike traditional market research, which is subjective and therefore deemed unreliable by some marketers, neuromarketing involves the scientific measurement of brain waves and activity, using technologies such as functional magnetic resonance imaging (fMRI), electroencephalography (EEG), eye tracking and galvanic skin control, to see how the brain responds to advertising messages.
These techniques have been used for some time by big brands such as Microsoft, who study EEG data to understand users' interactions with computers; Unilever, who use eye tracking techniques to evaluate consumer response to copy variations and Coca-Cola, who use the relatively new technique of facial coding, whereby experts view slow-motion video of subjects, to record fleeting "true" emotions that register briefly in facial expressions.
The ability to access consumers' 'true' inner emotions is invaluable to marketers, who are constantly looking for new ways to engage with their customers at a deeper, more intuitive level. But, as Facebook and OKCupid have shown, businesses need to be mindful of the ethical implications of neuromarketing, which need to be placed above any desire for commercial gain - the science needs refining, the practice controlled and its eventual implementation made entirely transparent and optional.