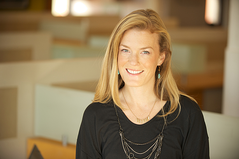 I recently had the chance to catch up with Samantha Skey, chief revenue officer at top women's lifestyle media platform SheKnows.
With more than 40 million unique visitors per month, SheKnows presents an increasingly innovative take on mainstream media for women. Focusing on branded content and influencer propagation, SheKnows has landed strong advertising partnerships with the likes of LG, Proctor & Gamble, Ford and Henkel.
Skey, who previously held management positions at Recyclebank, Alloy, The Walt Disney Company and CNET, shares insight into the evolution of branded entertainment in this interview. She describes how SheKnows is exploring the value of custom content for both consumers and brands.
Tim Nichols: As a digital advertising veteran, how do you see branded entertainment continuing to evolve?
Samantha Skey: Branded entertainment is evolving as rapidly as the technology that makes it possible, which is surprising. With digital advertising trends, the ad buying community often lags a bit behind tech innovation and user behavior. But in this case, brands are all set to go and users are happy to consume quality branded content, which is anticipated to be a $38 billion-plus industry by end of next year -- up 10 percent over the past four years. As such, expectations for content quality are higher than ever. Content must be good, branded or otherwise, to find an audience online.
In addition to quality content, a strong distribution strategy is fundamental to a successful branded content program. Finding the horizontal distribution opportunity is critical. Top-down distribution (push media) is rarely successful in driving true traction. This puts incremental pressure on targeting -- demo, behavioral and contextual are all key to finding the horizontal propagation opportunity.
Tim Nichols: What is different about SheKnows' approach to branded entertainment?
Samantha Skey: We have a legacy of producing high-quality lifestyle content for brands. This is how we funded many of the cool projects we have done, by inviting an advertiser into the process. Our approach is somewhat unique in that we bring the brand advertiser very deep into the creative process and really endeavor to represent their brand equity throughout the program's structure. As a women's lifestyle company, we have much more flexibility than news organizations to produce brand-collaborative content. Our editorial team works with our marketing team to strike the right balance between our own brand and that of our partners. Analytics tell us if the content is useful to our audience.
We also focus heavily on producing humor, inspiration or utility (or all three) through our content. Our utility-driven branded content, which takes the form of videos or "How-To" articles, is scaling really quickly. As for humor, take our Bachelorette-inspired "Romancing the Joan" campaign into consideration. We partnered closely with Henkel to create a scripted reality dating show spoof featuring comedy duo Joan and Melissa Rivers. Renuzit's new air-freshener scents take center stage throughout the seven-part series, with each suitor donning a name like Raspberry Richard or Hawaiian Oasis Heath. The "Romancing the Joan" series has been a hit so far with nearly 7 million video plays since its debut Sept. 9 on SheKnows TV. As a result, Renzuit's digital banner CTRs are up 25 percent and the series is helping to drive up "likes" on the brand's Facebook page.
Tim Nichols: Can you give me an example of how you use consumer insights to shape branded entertainment campaigns?
Samantha Skey: We are determined to get to know our user better every day. We do third-party research to ensure that we are balancing our daily analytics and our loudest users with a general market perspective. We know our users dig into branded content, but it was useful to double check the zeitgeist through a recent Harris Interactive/SheKnows survey of women's digital media consumption. The survey looked at how 1,007 U.S. women between the ages of 18 and 65 react to new technology and its impact on the way they seek, share and create content.
We found that 63 percent of women are amenable to product placement in TV shows and movies, and that the majority find advertising in social feeds to be creepy. The data also showed that parents are very conflicted over how best to integrate technology into their kids' lives. Additionally, 56 percent of the women we surveyed have a mentor or are seeking one. So with that knowledge, SheKnows launched a platform called "Experts Among Us" to match mentors with mentees. Lots of interesting information that impacts both our product and our business came from this joint study.
Tim Nichols: Some of the data you mention above is covered in SheKnows' newly published Marketing to the "Likeable" Mom whitepaper. What else did the research reveal?
Samantha Skey: One of the most fascinating groups the study looked at are moms. All too often, advertisers assume that moms - while one of the most powerful consumer groups out there - are the same and should be marketed to as one unit. The research confirmed that's not the case at all. Technology and social feedback play critical and sometimes conflicting roles for mothers.
In our new whitepaper based on the Harris Interactive/SheKnows survey, we divided moms into four non-mutually exclusive categories - Generation X Moms, Millennial Moms, Working Moms and Stay-At-Home Moms. We examined what motivates, inspires and concerns these groups in terms of digital consumption. Surprisingly, the data shows that perpetual connectivity can be overwhelming for 56 percent of Millennial Moms, which is a 12 percent increase over women in the general population and a 30 percent increase over Generation X women. The content moms share differs, too: Generation X Moms predominantly share photos of their kids on social media, while Millennial Moms mix it up with posts about their friends, kids and vacation. Working Moms are more likely to post videos, versus simply photos, compared to Stay-At-Home Moms. And, Stay-At-Home moms prioritize sex more highly than Working Moms!
The whitepaper reflects much more data than what I've shared, so I encourage anyone who wants to read more about these mom groups to click here and download it for free.
Tim Nichols: What should advertising executives know about the way moms engage with brands?
Samantha Skey: Based on our research, moms choose to associate with brands that help them present their "best self." The number-one reason for any mom to visit a brand's social media page is to find a deal, with Stay-At-Home Moms reporting the greatest appetite at 71 percent.
Generation X Moms are not arbitrary brand supporters, averaging 13.7 brand followings on social media. Just below one-third are influenced to follow brands by ads targeted to their interests, and 30 percent consider how the brand makes them feel. In short, they follow brands that appear to understand them. On the other hand, Millennial Moms follow 22.5 brands. Forty-three percent think about how brands make them feel when deciding whether to follow them, which means personal identity is more closely tied to brand engagement. But, Millennial Moms are far more annoyed by ads that appear on their social feeds compared to Generation X Moms. Yet, they are receptive to relevant advertising and are more willing to engage with brand campaigns.
As such, advertisers should focus on making things easier for busy moms - whether that's by offering her a new type of mobile utility, a strong value or deal, or efficient customer services. Underwriting digital products and content for women is a huge opportunity for brands.
Tim Nichols: What's next on the horizon for SheKnows in 2014?
Samantha Skey: We'll be expanding our "Experts Among Us" platform to thousands of hand-picked personalities in 2014. We launched this initiative in October and have had an amazing response to date. So many women have great content to share and are just looking for a professional platform and a bit of editorial guidance to create and share it. SheKnows helps fill that void in the marketplace.
The below article was originally written on December 9, 2013 by Tim Nichols, published by ClickZ.