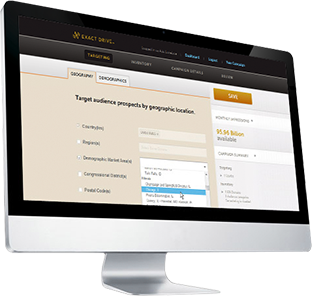 Leading online advertising and Internet marketing firm participating in Washington, D.C. conference (CampaignTech) focusing on impact of technology on campaigns
Saint Paul, MN – ExactDrive is joining Campaigns & Elections magazine as a co-sponsor of the 2012 CampaignTech Conference to be held Thursday, April 19 and Friday, April 20 in Washington, D.C.
At the conference, ExactDrive will lead a panel discussion on one of the key topics of this election cycle – "How Super PACs and politically-oriented non-profits do online ads." The panel will be moderated by Brian McClung with George Alafoginis from Facebook, Michael Scholl from Civis Communications and Ryan Jetton from Utility Digital. The panel discussion will be held on Friday, April 20 at 2:00 pm at the Washington Marriott.
The CampaignTech conference is designed for practitioners in the political space:
Campaign professionals will learn how to incorporate the latest and most effective digital tactics into their electoral arsenals.
Non-profit advocates will refine their digital organizing and outreach skills in preparation for the election year.
Technologists will gain intellectual inspiration and the opportunity to share ideas.
Communicators will learn how to connect their message to the right audience online.
At the conference, Campaigns & Elections will announce the 2012 CampaignTech Innovator Awards, designed to recognize achievement in digital politics and advocacy. Nominated by their peers, these practitioners and strategists have developed a legacy of innovation and collaboration in using technology to inform, enable, and engage voters and constituents on behalf of a political campaign, issue advocacy campaign, or legislative office.
About Exact Drive
ExactDrive plans, manages and optimizes Internet advertising campaigns with the objective of delivering measurable value and empowering clients to find precisely targeted audiences. The company has handled campaigns for numerous corporate clients including AmericInn, Disney World Resorts, Travel Leaders and NCC Media; association clients including the Alliance of Automobile Manufacturers, Coalition of Minnesota Businesses, and the St. Paul Area Chamber of Commerce; and political clients including the American Conservative Union and Freedom Club State PAC. Founded in 2009, ExactDrive has offices in Washington, DC, Austin, TX, Phoenix, AZ and is headquartered in St. Paul. For more information: www.exactdrive.com.
###