Retargeting drives potential customers back to your website by targeting users who have previously visited your website but didn't make a purchase or take the desired action. Developing a solid retargeting approach is a simple and effective way to increase audience engagement, build brand awareness and boost customer acquisition.
Let us discuss how to keep your brand front of mind. Retargeting is huge. We are all on the internet surfing around day and night, and we're talking about simple technology that allows a brand to advertise to us online after we've shown interest in a product or service but leave the website without converting. How about that for a beneficial and targeted advertising opportunity? Site retargeting brochure.
However, while the technology may be simple, retargeting can be risky due to its potential in-your-face approach to online advertising. No one wants their brand to stalk their customers. So before you can prepare to boost your bottom line, here are 7 things about retargeting that you need to know before deciding whether to invest.
7 Retargeting Thoughts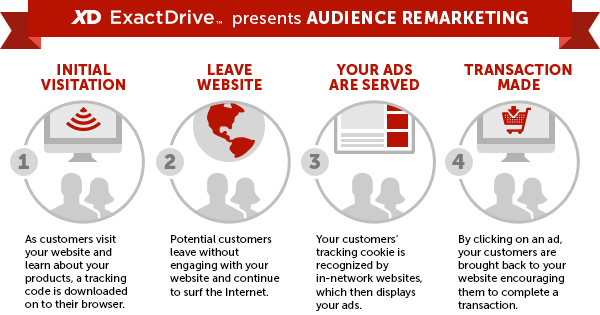 1. Retargeting can increase conversion rates by as much as 3x or more. There's no doubt about it, if you want to sell more products and services, retargeting works.
2. The consumer's opinion of retargeting is mixed. Recent research shows that 30% of people are positive about being retargeted, 11% are negative, and 59% are neutral. But could that 59% of people be swayed?
3. Retargeting is hot right now – in fact, it's gone mainstream. So if you decide not to use retargeting as part of your marketing strategy, your competitors might be taking revenue away from you.
4. The average click-through rate for display ads is around 0.07%, while the average rate for retargeted ads is 0.7% or higher.
5. By retargeting visitors to your website, you're 70% more likely to convert them at some stage. It's as simple as that.
6. In some cases, retargeted ads have led to a 1046% increase in branded search.
7. I've saved the most important point till last. It's important to realize that a whopping 98% of people leave a website without buying anything on their first visit. Even a successful advertising campaign will only convert 2 out of every 100 leads. Therefore, 98% of your advertising budget is effectively being flushed down the toilet. Retargeting will help improve these numbers.
Retarget Like A Pro
1. Place the Provided Pixel on Your Homepage Early. Place the retargeting pixel on the backend of your homepage at least two weeks before campaign launch to build up a solid pool of users to later target. Use different retargeting pixels on specific pages to separate your audiences.
2. Don't Smother Your Audience. Best practices suggest that you should limit your retargeting efforts to around 15-20 ads displayed per month per user - enough to keep you on your target market's mind, without suffocating them.
3. Give Your Audience a Good Creative. Having users sign up for a newsletter? Trying to push a current sale? Make sure your creative goes beyond brand awareness. Give them a reason to come back to your site!
One of the best ways to get potential customers back on your website is with a solid retargeting approach. This will increase audience engagement, build brand awareness and boost customer acquisition. Retargeting is a simple and effective way to increase audience engagement, build brand awareness. It drives potential customers back into your website by targeting those who have previously visited but didn't make any purchase or take the desired action.
Can you afford not to retarget these visitors?