Are your Facebook advertising campaigns producing the ROI you want? If not it's time to look at your advertising strategy. Some companies are rewarded with low-cost leads and healthy profits from their Facebook campaigns, while others simply fail.
There are some common mistakes made by facebook advertisers that are preventing them from getting the results they want. Consider these five points before embarking on your next campaign:
1. Not having a Goal
When you create a Facebook ad, the first thing to ascertain is what your objective is.
Each Facebook ad should have a specific, measurable goal, and you need to know what metrics you will use to measure your success with that goal.
By focusing on "cost per" metrics, you can improve the effectiveness of you campaign without increasing the ad spend.

For example:
Website clicks: measure

s

the cost per

click

Website conversions: measure

s

the cost per lead

Page Likes: measure

s

the cost per fan
2. Not Creating Enough Ads
It is a mistake to create one ad and think you're done. If you only create one, it will lose its impact quickly and the chances are that it will under perform. The only way to find the 20% of ads that get 80% of the results is to create at least five versions of your ad.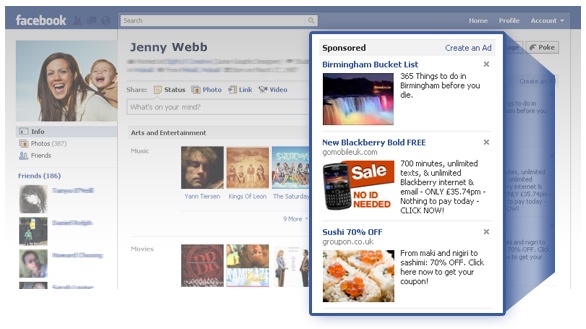 3. Not Testing your Targeting
There are many ways to target the people you want to reach. Inexperienced advertising tend to create one ad with lots of interests in them, but you also need to test more granularly- just a few interests per ad.
Test your creative (image, headline, body) against multiple targets by creating several ads. See which gets you the best results, then test further against the best targeting criteria.
4. Poorly designed landing pages
Our experience has shown that people are more likely to respond to an advert if you ask them to do just one thing.
Let's say you send users to your website's landing page and there are 20 options that they can choose from. The chances are that people will get confused; fewer people will do what you want, and the cost per lead will increase.
This is bad practice - your goal should always be to lower clients' cost per sale and cost per lead. Make sure there's only one thing users can do on your landing page.
5. Neglect
If you create ads but never check them, they won't perform well. The good ones will stop working once your audience tires of them. You'll waste money and miss out on profits.
You should check how your ads are performing at least once a week, and make sure you have new ads to replace those that burn out.