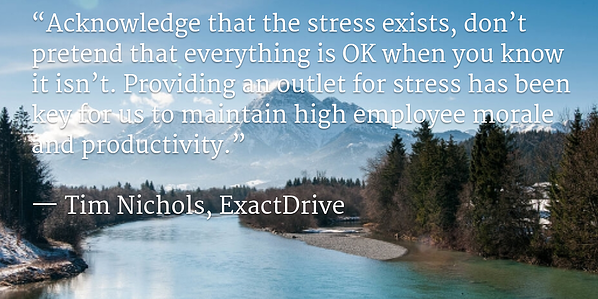 ExactDrive had the opportunity to be interviewed by SiteProNews who publishes the latest articles and breaking news on technology, social media, search engines, SEO, business, marketing, content writing and webmaster resources.
Working at a start-up is bittersweet. For every opportunity to work remotely and play ping pong at the office, you also have to deal with long work hours and the possibility of failure lurking around every corner. Despite its ups and downs, its exactly this type of excitement that draws people to the start-up world and away from the traditional 9-5. Needless to say, this type of environment can also cause a lot of stress, and in such situations, it's important to have a leader that stays level-headed, one who can effectively maintain staff morale. We spoke to various startup CEOs at different stages in their careers, and asked what the most important factors are when attempting to boost staff morale during stressful times at work. Here's what they had to say.
1. Communication
"Stress is a by-product of the thought of losing control, whether that be missing a deadline, or feeling something is no-longer achievable. By implementing a culture of open communication staff can more quickly raise and discuss issues, which helps combat the stress at source, by allowing the issues to be dealt with. Having that knowledge of support also helps potentially stressful situation become less so."
— Ian Naylor, AppInstitute
2. Preparation
"Stress is a part of any startup. As a founder, your job is to make sure your team has the preparation and resources to succeed. If the goal is reachable and the team believes in your vision, roll up your sleeves and get to work because the sooner you're able to deliver, the sooner your team will be able to relax with a strong result behind them."
— Peter Ostroske, OFI.co
3. Passion
"Love the grind. Think of the stress as a theatrical drama that isn't real and then love your role in the drama without taking it too seriously. There will always be dramas and they always pass. So love the grind.
"If the stress persists by abundance or overload of tasks, do one thing at a time and do not even lightly work on anything in parallel until the task is completed. Do at least five in a row this way. Things will look much different afterward."
— Clinton, Qwiktube
4. Attitude
"First, stress is not a bad thing. A study made by University of Wisconsin shows that subjects with a lot of stress had a 43 percent increased risk of dying — but only if they believed stress was harmful. So, changing their attitude towards stress is the best way to save their lives."
— Valentin Radu, Marketizator
5. Awareness
"Acknowledge that the stress exists, don't pretend that everything is OK when you know it isn't. When stress hits your staff it can cause many adverse results. Acknowledging that everyone is stressed and providing an outlet for the stress have been key for us to maintain high employee morale and productivity."
— Tim Nichols, ExactDrive
6. Acknowledgment
"During stressful times it is important to ensure staff know they are doing a great job. It is important to give them an idea of the bigger picture to ensure they know their work is important. Let them know they are appreciated and that they will be rewarded in due time."
— Muneeb Mushtaq, AskforTask
7. Synergy
"Getting everyone aligned with our goal, why it's important and where their individual contributions fit in. High stress is nearly unavoidable, but everyone working together toward an end goal really helps. Also, it's important to have fun and not let the stress overtake your emotions."
— Zack Hanebrink, Massagebook
Read More: http://www.sitepronews.com/2015/03/03/boost-staff-morale-times-high-stress/