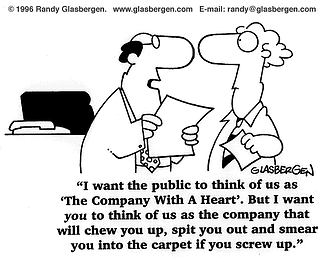 recently had the opportunity to be interviewed by Digital Connect Mag, which was started by a group of tech enthusiasts with the sole purpose of helping consumers, businesses and IT professionals. They aim to cover pretty much every topic under the sun which is related to Technology, Business and Information Technology.
A startup's success is dependent on a number of factors, the most important, and often the most overlooked being the startup's company culture. Regardless of how solid a product and the funding behind it is, the strength of the company culture will ultimately be the determining factor behind the startup's long-term success.
The most important aspect when creating your company culture is establishing a set of values which will define your company from its early stages to maturity, values that your company will adhere to during both successful and difficult times. This effort needs to be made from the very beginning stages of your entrepreneurial endeavor, since the values you establish initially will determine the direction in which your company grows. By making a concerted effort to build your company around that value system, and by setting clear expectations for the type of relationships that your team should have, you can exert a far greater control over what your company will look like in the next five to 10 years.
We spoke to various startup founders at different stages in their careers, and asked what the most important element is when establishing a company culture. Here's what they had to say.
1.Team Mentality
Understanding that everyone is a member of the team and not just part of their own individual silo. We foster a team mentality by hiring others that fit out company culture, committing ourselves to learning and communicating as a team and sharing in both successes and failures as a team so to create a deeper sense of corporate community.
Tim Nichols, ExactDrive
2.Everyone Contributes to the Purpose of the Company
Understanding and sharing purpose and meaning. Don't invest in discussing action items but create platforms where everybody contributes to the purpose of the company. Why and how can we do good to people? Efficient and high-quality delivery will be a consequence of these platforms.
Matthias Muller, SustainabilityCompass
3.Be Genuine
I believe that the most important element of company culture is to be genuine. I know that many companies these days strive to achieve something along the lines of what Google or Zappos have done for their company culture. The problem is that there is never a "one size fits all" in the world of company culture. As a founder you should look to surround yourself with people that are there because they want to be and really enjoy working with that particular team. At that point things will become more fluid and less forced.
Dennis Lutsky, Monitr
4.Establish the Right Team
Team. In order to build something massive it takes an amazing team. We continually recognize all the people involved that make our company succeed.
Jim Alvarez, AuctionsByCellular
5.Encourage Ownership
OWNERSHIP. Getting people to feel they "own" what they are working on. Once they feel they own their job, their product and their clients, the work is done better, faster, and the clients have get greater customer service. Everyone's attitude improves. Setting incentives to build ownership isn't easy. Equity or commissions always help, but so does public praise and spot bonuses. Also, including employees in key meetings is a great way to build an ownership mentality.
David Wachs, Handwrytten
At Mailflo, the biggest element is ownership. Magic can happen if people in the team can have a feeling of ownership towards the product in general, and towards specific features or aspects in particular.
In our dev team, we foster involving people in key product and marketing decisions. Our programmers working on a feature are part of it right from the time we decide to build it, through working out the details designing, programming, delivery and maintenance/support. This makes everyone feel deeply responsible for what they've built and delivered.
Niraj Rout, Mailflo
6.Peer Support
We believe that the most important element of a company culture is the support of your peers. We try to foster it by open communication and exercises that allow people to collaborate with others in the organization to drive our overall company purpose.
Charles Walter, Rokk3r Labs
7.Acknowledgment
Autonomy & Excellence. Give people credit where credit is due. As a company we run a flat organization with a focus on goal setting and achievement.
Cameron Mclain, ChallengeMeClub
8.Open Communication
Open communications, no problem is so big it can't be overcome by effective communications. We encourage openness, such as our weekly company update, where everyone has a say, can ask any questions, and the good, bad and ugly is shared.
Ian Naylor, AppInstitute
9.Values
The most important element is the set of values which describe the company's character. You can foster it through the people, since they are self-motivated to do certain on-going actions that makes everyone aware about those values,.
Valentine Radu, Marketizator
10.Hiring
Hiring for culture is important. Screen candidates based on experience, but hire on culture.
Mark Volkmann, MassageBook
11.Autonomy
My favorite aspect of our company environment is the ownership that each individual has in his or her role. As a leader, I seek employees that are curious, impassioned, and empathetic, identifying collaborators with different strengths. This conserves a great deal of time I would normally spend managing, that I now spend influencing and ideating. I rest easy knowing that my team of owners is engaged and autonomic, and our work becomes an expression of our enthusiasm.
Cameron Jonsson, ReachandAcquire
12.Incorporate Culture Into Overall Strategy
The basis of a company culture should be made clear in the same way as a mission statement. In many ways, culture is part of a businesses DNA simply because founders will ultimately dictate how the company / startup will go to market from an employee and customer perspective. To completely foster culture, the high level detail must be incorporated into a companies overall strategy.
RJ Sturt, TNU
Read More: http://www.digitalconnectmag.com/12-steps-to-developing-a-healthy-company-culture/