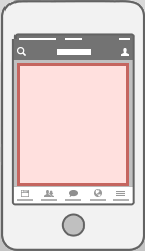 Mobile advertising is becoming more and more popular and important all the time. It's no secret that we're deserting our desktops for tablets and smartphones; in fact, mobile traffic is set to overtake desktop this year. With a mobile device people can do so much more on the Internet: anytime, anywhere. So above anything else, today's marketing teams should be focusing on these 'always-on' consumers.
Take a look at the stats to see how this mobile advertising trend is exploding:
- UK advertisers invested an average of £1 in every £6 they spent on digital mobile advertising last year.
- Spend on mobile advertising doubled year on year to pass the £1bn mark for the first time. And mobile ad spend is expected to nearly double again in 2014 to almost £2.26 billion (32% of total digital).
- On the back of this, m-commerce is expected to increase by 53.3% in 2014, more than triple the 15% growth rate for retail ecommerce.
It's an impressive story and according to eMarketer, mobile ad spend in the UK will overtake spend on newspapers for the first time in 2014. To top this, mobile advertising is due to overtake all of print, including magazines by 2015, TV by 2016, and finally becoming the largest advertising platform in the UK by 2017. In short, mobile is where it's at.
PwC's latest Global Entertainment & Media Outlook 2014-2018 predicts that 50% of the UK population will own a tablet by 2018 and 73% will own a smartphone. Advertisers need to have a strong mobile strategy in place if they want to reach consumers on their mobile devices.
So, what are the main things to think about when planning a mobile advertising campaign?
1. Targeting
Audience targeting should be top of the list of priorities. There's lots of information about mobile users that you can utilize, such as age, gender, device type and behavior - as well as location data. You should try and get some location metric into most mobile campaigns because you don't get this luxury on other mediums. But avoid over-targeting here, otherwise your campaign might only reach a few people in one street!
2. Audience
Once you've decided on your target audience, you need to think about where you want your ad to appear. Different sites offer different user behaviors – for example, gaming apps tend to offer higher click-through rates but less conversion than traditional content. So make sure you research and generate a full site list or receive such a list if you're not managing your campaign in-house.
3. Formats
Your campaign should be effective without being intrusive but this is a fine line, particularly when it comes to mobile advertising. Ads that come out of the banner without taking over the home screen are better than pop-ups that appear all over the screen. And ads that appear for a shorter period of time and are easy to close or skip are much less likely to annoy your target audience. If you're thinking about using video always include a skip function so you can accurately measure people that watch the whole thing.
4. Measurement
Finally, you need to make sure that your campaigns are being measured properly by analyzing post-click behavior. When it comes to leveraging the vast data available on mobile. You can only get better at mobile advertising and make sure you're getting your money's worth when you have this kind of information.