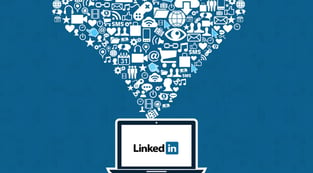 Most people think that LinkedIn is just a digital repository for resumes, but the site, which now boasts over 300 million members, is slowly repositioning its business around content marketing, to make the site more business-friendly and relevant for social media lead generation and B2B marketing.
As part of its strategy, the company launched two new products earlier this year, in an effort to assist businesses with their content marketing efforts.
Content Marketing Score (CMS)
The Content Marketing Score is an analytics tool that provides users with insight into the impact of both their paid and organic LinkedIn activity.
Content-marketing scores are calculated by dividing the number of LinkedIn users who've engaged with a brand's content (via sponsored updates, company pages, LinkedIn Groups, employee updates and influencer posts) in the past month by the target audience of users who have been active in that monthly period. The number is then multiplied by 1 million.
The score is then ranked against a set of competitors, to provide a snapshot of how well a company is engaging with its audience. There is also an overall score to show how well the company is performing across the LinkedIn network.
If you want to see how your company is performing, you can request your score here.
Trending Content
LinkedIn is also sharing "trending content" insights with advertisers. The interactive tool ranks the most popular content on LinkedIn for each different audience and topic segment, enabling companies to see which topics matter to their target audience.
You can see a visualization of the Trending Content tool by clicking here.
All of the social media platforms use analytics to gauge impact, but they do so in isolation. These LinkedIn tools are unique in as much as they benchmark a company's performance against its competitors, giving a business a clear idea of where they stand in relation to the industry leaders.
Will my company benefit from marketing on LinkedIn?
LinkedIn, users however are business-minded – they do not go on the site to socialize. By optimizing your brand's professional presence on LinkedIn, you will therefore have access to a huge network of industries and professionals that are more likely to turn into valuable leads.
LinkedIn is marketing the CMS and Trending Content Tool as "The Dynamic Duo," but they will only be useful for companies that significantly increase their content sharing on LinkedIn. For now, the companies that invest the time to understand the tools will have a competitive edge in delivering better qualified leads through content on LinkedIn.