With over one billion people using social media channels across the globe, it has become a powerful communication and marketing channel that we cannot afford to ignore. Social networking sites allow for viral marketing and word-of-mouth promotion to be very effective because of the high levels of consumer engagement.
But with so many businesses making use of social media, it's not enough just to set up an account and post generic items once or twice a week. Social media advertising offers far more potential than that.
The Fiesta Movement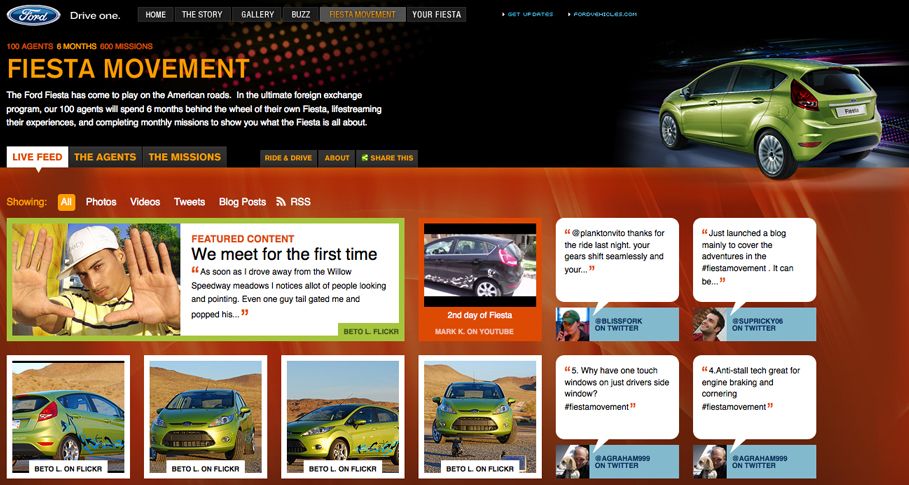 Take the Ford Motor Company for example, they launched an innovative, low-cost social media campaign on Facebook, with the aim of attracting young, newly qualified drivers to purchase the new, redesigned Ford Fiesta.
Ford knew that the best way to reach their demographic was via social media, so they launched an innovative campaign called the 'Fiesta Movement' on their social networking sites. They invited members of the public to apply to become 'Fiesta Agents', who if successful, would be loaned a new model Fiesta for six months, in return for posting honest feedback about the car on various social media outlets.
Applications were made via YouTube, where people submitted videos explaining why they would make good Fiesta Agents. The campaign took off in a big way. Ford received over 4,000 applications, from which 100 people were then chosen, based on their social media reach and expertise.
The Results
Ford gained over 2.5 million new Facebook and Twitter fans during the campaign and pre-launch awareness of the Fiesta rose to 37% among 16 – 24-year-olds, (their target market). Most importantly, Ford received 50,000 requests for information about the Fiesta in the first 6 days of sale.
The campaign was so popular that the driver-generated content became the basis for the company's TV spots and print ads and Ford have revamped it to introduce their latest Fiesta in 2014.
The Fiesta Movement campaign was successful for a number of reasons. It employed low-cost, guerrilla marketing techniques to utilize multiple social media channels (Facebook, YouTube, Twitter, and Flicker) in order to create brand awareness, generate discussion and anticipation while offering a new generation of consumers the opportunity to experience the brand firsthand.