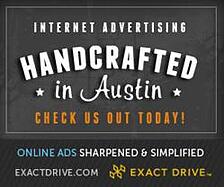 What do St. Paul, MN, Phoenix, AZ, Washington D.C. and Austin, TX all have in common? They all are innovative, flourishing, and rapidly growing, yes, but most importantly they all house the offices of Exact Drive, a leading online advertising and Internet marketing firm. Exact Drive is very excited about their recent expansion into Austin. As a result, Exact Drive Brings Digital Media Planning and Buying Services to Austin Texas
As you know, Austin is a skyrocketing city overflowing with technology, music and innovation. It is a city that values community, local businesses and a quality of life that would make Jimmy Buffet jealous. A place where you can sip a brewski while signing a lease with your realtor, enjoy live music four days a week at your local grocery market and hosts more events and festivals then you ever knew existed. Just because the late local legend mayoral-candidate Leslie Cochran use to wear a tutu while walking down the street does not mean that Austin shouldn't be taken seriously. Make no mistake, Austin means business and that's why Exact Drive is excited to bring its real-time digital media planning and buying services to such a great city.
Exact Drive works with clients and agency partners throughout all stages of the digital media buying and planning process. Many times a client or partner comes to us with a media plan already in hand and we facilitate only the digital media buying part through our online advertising platform. Our buying platform offers access to billions of daily impressions across hundreds of millions of unique users so the online advertising options are almost unlimited. Other times we are approached with a want and desire to grow an online presence and reach more customers. This means we will work with the client or agency before, during and after their campaign launches to maximize results. This approach will include research, creative design and strategic planning pre-campaign, media buying, campaign management, fulfillment and optimization during the campaign and reporting and analysis post campaign.
While Austin is clearly home to big bustling business, a unique element is the supportive environment for start-ups and independent local companies. The city is chalk full of successful local businesses and their success is proof of the city's love of everything green, quirky, and local. The enthusiasm for local business is quite infectious, so in tune with Austin spirit we are going to showcase some of those businesses and get to know what makes them tick.
About Exact Drive
Exact Drive plans, manages and optimizes Internet advertising campaigns with the objective of delivering measurable value and empowering clients to find precisely targeted audiences. The company has handled campaigns for numerous corporate clients including AmericInn, Disney World Resorts, Travel Leaders and NCC Media; association clients including the Alliance of Automobile Manufacturers, Coalition of Minnesota Businesses, and the St. Paul Area Chamber of Commerce; and political clients including the American Conservative Union and Freedom Club State PAC. Founded in 2009, Exact Drive has offices in Washington, DC, Austin, TX, Phoenix, AZ and is headquartered in St. Paul, MN. For more information: http://www.exactdrive.com.
This article was originally published by PRWeb.com.
###
MORE INFORMATION
Brian McClung: 651-717-4182
brian@exactdrive.com