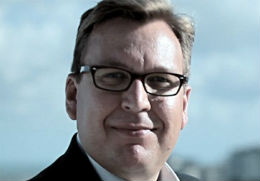 The Makegood is pleased to welcome Tim Nichols as a contributor to The Makegood. Tim is the Principal Media Director at Exact Drive and has been involved with digital media and the online advertising space for nearly 10 years and has been with Exact Drive since its founding. Most recently, Tim played a key role in developing and launching Exact Drive's Campaign Builder software, which helps clients plan and execute their Internet advertising campaigns.
Simon has more than 20 years of international marketing, business development and management experience on both the client and agency side. Prior to heading up AdPeople Worldwide Austin, he managed AdPeople Worldwide Singapore and its Asian operations for three years. We recently had a chat with Simon.
Tim Nichols: What kind of companies are AdPeople Worldwide's main clients, and what kind of service do you typically offer them?
SH: Our solution is ideal for marketers requiring efficient global creative solutions. And our clients are from various industries and geographies, but all have a focus on being agile and more cost efficient – while still maintaining creative quality and business impact.
We designed AdPeople to enable our clients to operate successfully within the globalized, rapidly evolving multichannel world. Through our nimble operations, agile behavior and lean mindset, we develop engaging creative ideas and business-building solutions with local relevance and global scale.
Tim Nichols: Is it possible to be global with 9 offices worldwide?
SH: Absolutely! We have a very lean set-up and approach based on an efficient infrastructure and operation management system. In our 4 regional hubs, we have more than 50 nationalities and native speakers that cover 70+ markets. That gives us a unique opportunity to ensure that global campaigns resonate in the local markets and also enables us to be very agile and efficient — avoiding the normally heavy coordination, etc. On top of that, we have 4 local offices in high-growth markets like India and China that are supporting local clients where proximity is very important. On top of that we offer best-in-class production capabilities through our Marketing Service Center network. Above all our leadership team – in all offices – has a global mind-set and experience. For example, I have worked in our offices in Europe, Asia, and the US, which gives me a good perspective on the various regions and markets.
Tim Nchols: Can you tell us about your role as the General Manager of North America? Where does it begin and end?
SH: It's my job to ensure we have the right people, tools and resources to deliver the most outstanding work for our clients, in the most efficient way. We are trying to attract the best talent, and the work environment is very important to me, so I'm working closely with the leadership team to identify all potential issues, as well as opportunities, internally and externally. I feel very fortunate to have a great team and to be part of a wonderful network. We have a very flat and process-driven organization, and I see myself as a coach who helps ensure that colleagues and clients alike have the direction and support they need.
Tim Nichols: You recently relocated to Austin, Texas after working in Singapore for several years. How are you enjoying Austin?
SH: It's been almost two years since I moved, but time flies by so quickly when you're having fun. Austin is a great place to live, both professionally and personally. We have a great office here, and we are able to attract really good talent. The mix of the universities, the tech sector, concern for the environment and health, music scene, creativity and general positive outlook inspires people to look at the projects more holistically and create untraditional solutions. The endless cultural events and outdoor possibilities is a nice balance to the work – as well as the fact that family is also well integrated into the city. And not to forget, F1 racing coming in November. Very exciting!
Tim Nichols: You have more than 20 years of International marketing, business development and management experience on both the client and agency side. With that in mind, what are the biggest changes you have seen in your space over the last two years?
SH: From a macro level, the global economy, globalization, and technology are the three largest contributors of change. Social media is as an example one of the outcomes of the last two.
I believe it's still all about brands connecting with people. However, the requirements for creating successful marketing have changed. It's not only about the great idea anymore – it's about dialog, experiences and the right content and message at the right time on the right platform. It's much more complex, and the requirements for behavioral targeting, geo-location services and social media channels, for example, demand a different kind of marketing and agency people. The people that can integrate creativity, technology and data in a user-oriented way – efficiently across platforms and globally –will be the ones that take the lead in the future. And then we should not forget the constant pressure to reduce costs and increase ROI, which means that marketers and agencies have to change the way they have always worked. Offshoring, crowd sourcing, automation, centralization, etc. are all the key discussions organizations need to have.
Tim Nichols: Did you have a Corporate Social Responsibility strategy or how did it happen that you are sponsoring two schools in Dhaka?
SH: Ever since AdPeople was created in 1999, we have actively been a part of supporting the local communities. As an example, with the 2005 launch of our production hub in Dhaka, Bangladesh, we started a relationship with a country and its people that has given so much support to our business. And we've always sought ways to give back. From day one, the mission of AdPeople included education and training for locally recruited employees – to give them world-class skills and opportunities. Since 2009, AdPeople Worldwide has collaborated with the JAAGO foundation to build schools that give the children of Dhaka a chance to break the cycle of poverty through education – a way to help them help themselves. Our first school in Korail started operation in April 2011. Classes began with 80 students and a teaching staff of four, with four more joining shortly thereafter. This new branch is one of JAAGO's biggest projects to date. With the success of our first school, we are currently building more schools to accommodate more students. We are very proud of this project, but obviously also of the work we do in each of the local communities where we are located. You can read more about our CSR programs at www.adpeople.com/csr.
Tim Nichols: Thanks, Simon.
Article was original published by Tim Nichols on June 5th, 2012 at The-Makegood.com.