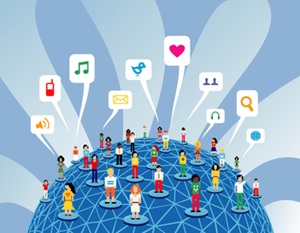 If you are just beginning to research online advertising and what it can do for your business, one of the essential questions you need answered is: What is online advertising? At Exact Drive, we realize that not everyone is familiar with the domain of advertising and abbreviations (people in online advertising love abbreviations), so we are headed back to the basics to give you a quick overview of the wonderful world of online advertising.
In a tiny nutshell, online advertising (aka internet advertising, internet marketing, digital media advertising) is exactly as it sounds—the marketing, advertising or promotion of goods or services on the Internet. The umbrella of online advertising is very broad as it comes in many different forms. We could write a whole book on the different types of online advertising but instead we are going to focus on providing a short overview of one of the most popular types: display advertising.
Display advertising
Display advertising includes the use of web banners or banner ads, which are the little boxes of advertisements that you see on many websites. These banner ads increase product awareness and can also drive traffic to a company's website. Banner ads are can be static, animated, dynamic, interactive, or video. Behavioral targeting, demographic targeting, geographic targeting, retargeting and site based targeting are all common ways in which advertisers choose to target banner ads (we'll have to dedicate another blog to targeting definitions!). Long-story-short, the ability to effectively target a very specific consumer is a major win for online advertisers.
3 Most Common Ways Online Ads Are Purchased (Media Buying):
1) CPM- Cost Per Thousand: Advertisers pay based on the amount of people who see their ad (called impressions). The pricing is bundled in units of a thousand impressions.
2) CPC- Cost Per Click: Advertisers pay each time a user clicks on the ad and is directed to their website.
3) CPA- Cost Per Action (or Acquisition): Advertiser pays for each specified action (a purchase, form submission, etc)
Advantages of Online Advertising
A major advantage of online advertising is the ability to reach a wide audience for a fraction of what it would cost in traditional advertising. Another beneficial element of online advertising is the ability to easily, accurately and inexpensively measure statistics. Analyzing online advertising campaigns have become somewhat of a science, as there are so many ways to trace, measure and test results. These analytics make it much easier to optimize online advertising campaigns and estimate return on investment (ROI).
If you would like to learn more about online advertising, Exact Drive, or confusing industry abbreviations, don't hesitate to get in touch!