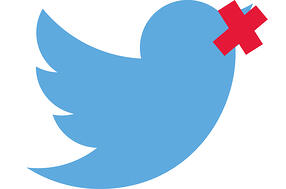 Twitter's new mute button is designed to allow Twitter users to select specific users and mute them. Once a user has been muted their tweets and retweets will no longer be visible to the person who chose to mute them. Being placed on mute may not be as drastic as being unfollowed, but it certainly raises a few concerns for online business owners and Internet marketers because those who are muted will have no way of knowing the action has occurred. Worse still, if the user forgets to, or chooses not to un-mute, the mute will be effectively as good as an unfollow.
Twitter Mute Button Benefits
The new mute button offers obvious benefits for all Twitter users. If someone really desires to cut their ties with a particular user or brand they will undoubtedly unfollow them in the traditional manner, but there are times when people are too busy to keep up with all the activity shown in their Twitter account and just need a break. The new button makes this easy. There are also occasions when certain accounts may have a surge in activity. In the case of a sporting brand, for instance, their Twitter feed may become a hotbed of activity during or around major sporting events. Nobody is going to wish to unfollow their favorite team, but they may prefer to concentrate on the sport itself and choose not to have their accounts bombarded with tweets and retweets etc.. Here again, the new Twitter mute button is a blessing, but one person's blessing can be another person's curse.
The Other Side of the Twitter Mute Button
For each person enjoying the reduced activity in their account there could potentially be countless other Twitter users who are blissfully unaware that their messages are not getting through to some of their followers and, in some ways, the mute could be worse than an unfollow.
In the normal state of affairs if a user suddenly notices a glut of unfollows they can review their past Twitter activity to try and ascertain which actions have proved a turn off with their followers and caused them to tune out. If an obvious pattern emerges, or a certain update has muddied the waters of their TwitterVerse, they can then modify their activity and try to ensure the same mistakes are not repeated.
It's a different story with Twitter's mute feature. If a user's activity proves to be s turn off with their followers, and they choose to use mute instead of unfollow, the mistakes could be repeated over and over again and the affected party would never be any the wiser.
Guarding Against the Twitter Mute Button
When it comes to the Internet one rule counts above all others: content is king. It's an easy matter to fall into the trap of believing this only applies to website content, but it applies equally to all on-the-net endeavors from email marketing campaigns to blog posts, forum comments and--yes--to social media activity as well.
If a Twitter user has attained any number of followers it suggests that most of those followers were interested in what the user had to say. It's important not to lose sight of that fact, but it can be easy to get carried away and overdo things, especially so for Internet marketers and online business owners because the desire to further expand brand awareness and/or attain more sales can be very enticing. Sometimes having the drum that beats the loudest just doesn't work though--especially when it can now be muted so easily. Tweeting less often, but providing followers with something of interest instead of pointless noise is a much better idea and should be enough to keep those cursors away from that dreaded Twitter mute button.