With just one week away from Agencyside's BOLO 2013 conference, ExactDrive is gearing up for an exciting week as hundreds of industry and agency leaders will come together in Scottsdale, Arizona. This conference provides the opportunity to experience authentic connections, audacious speakers, actionable ideas, and a helluva good time.
The Agencyside Bolo team prides itself on bringing together some of the top agency leaders and thought provoking speakers in the industry. The breakout sessions are bound to provide you with many new topics to discuss, unique ways to think about existing topics and in some cases a new way of thinking about your industry. All resulting with you leaving the BOLO 2013 conference with a full set of action items and ideas to lead your agency & clients.
This year's conference includes an outstanding guest speaker list: Eli Goodman (comScore), Lauren Drell (Mashable) and Judy Shapiro (engageSimply). Don't miss out on the action, register today to hear their breakout strategy sessions.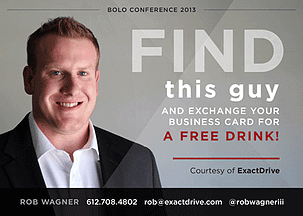 Exchange your Business Card for a FREE Drink – Complements of @ExactDrive
All you need to do is contact Rob Wagner to exchange your business card and ExactDrive will provide a complementary FREE drink ticket that can be used anytime throughout the conference at the beautiful Hotel Valley Ho. That's right, it's just that easy. We have all experienced going to a conference, handing out a bunch of business cards and wondering to yourself it any of your efforts will pay off. Well, sharing your business card at this conference will be different.
We can't guarantee that you will receive any benefit from handing out your card to everyone you meet but we can guarantee that if you give your business card to Rob Wagner at the BOLO 2013 conference in Scottsdale, Arizona you will benefit by receiving a FREE drink, courtesy of ExatDrive. We can offer more than just an amazing advertising platform, stellar optimization, impressive brand safety and outstanding strategic insight. We now offer FREE drinks. Sheesh.
Rob Wagner | 612.708.4802 | rob@exactdrive.com | @robwagnerIII

Scheduling an On-Site Software Demo
ExactDrive's Self Serve Advertising Platform delivers online advertising solutions that make it faster and easier to reach more people who are ready to embrace your brand. Advertisers traditionally have very little control over online ad campaigns. Our Self Serve Advertising Platform provides a turn-key solution to Build, Manage, Execute and Analyze Digital Display campaigns for your clients.
Schedule a demo of ExactDrive's Advertising Platform and/or exchange your business card with Rob Wagner to receive a FREE drink ticket while at the BOLO 2013 Conference, courtesy of ExactDrive.