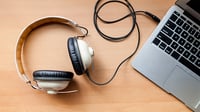 Before we get into the details of programmatic audio advertising, what exactly isprogrammatic advertising itself? Put simply, programmatic advertising isa way of buying digital ad space via software - as opposed to the traditional process ofhuman negotiation.
Using machines to buy ads is actually a really efficient way of buying advertising space, because both buyers and salespeople can be expensive and unreliable in the real world. With the use of machines the whole process is slicker and smoother than buying through RFP (Request for Proposal).
On top of this, when the selling, buying, placement and optimization of media space is automated, marketers and advertisers can deliver more customized and personalized messages to audiences based on real-time data – this isn't the case with RFP.With programmatic you get targeted dataabout things like music-based psychographic groups, weather and traffic patterns, purchase behavior and other environmental, population and consumer trends.