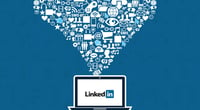 Most people think that LinkedIn is just a digital repository for resumes, but the site, which now boasts over 300 million members, is slowly repositioning its business around content marketing, to make the site morebusiness-friendly and relevant for social media lead generation and B2B marketing.
As part of its strategy, the company launched two new products earlier this year, in an effort to assist businesses with their content marketing efforts.
Content Marketing Score (CMS)
The Content Marketing Score is an analytics tool that provides users with insight into the impact of both their paid and organic LinkedIn activity.
Content-marketing scores are calculated by dividing the number of LinkedIn users who've engaged with a brand's content (via sponsored updates, company pages, LinkedIn Groups, employee updates and influencer posts) in the past month by the target audience of users who have been active in that monthly period. The number is then multiplied by 1 million.