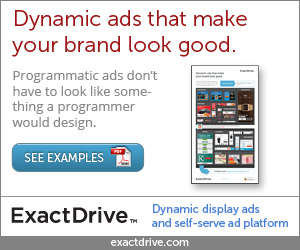 Display ads need to captivate consumers with compelling creative and dynamic messaging. But creating a fresh and engaging ad takes precious time and effort. Until recently, high quality ad creation waschallenging for marketers, (particularly in small businesses) but all that has changed with the advent of dynamic ads.
Dynamic ads in a nutshell
Dynamic ads are unique in that they adapt themselves to the person seeing them. Each ad is personalized based on criteria such as the viewer's product interests, location, or demographic, and then served in real-time, with a relevant product, offer, or message.
The idea is that by being personalized to the viewer, dynamic ads will attract more engagement than standard, generic ads. Not only that, but by sending each person directly to the web page that's most relevant to them, dynamic ads reduce clicks in the conversion path, which can ultimately boost conversion rates. However, it is also important to not overly personalize your dynamic ads to the point where the viewer is creeped out.
Read More